110 min | Comedy, Drama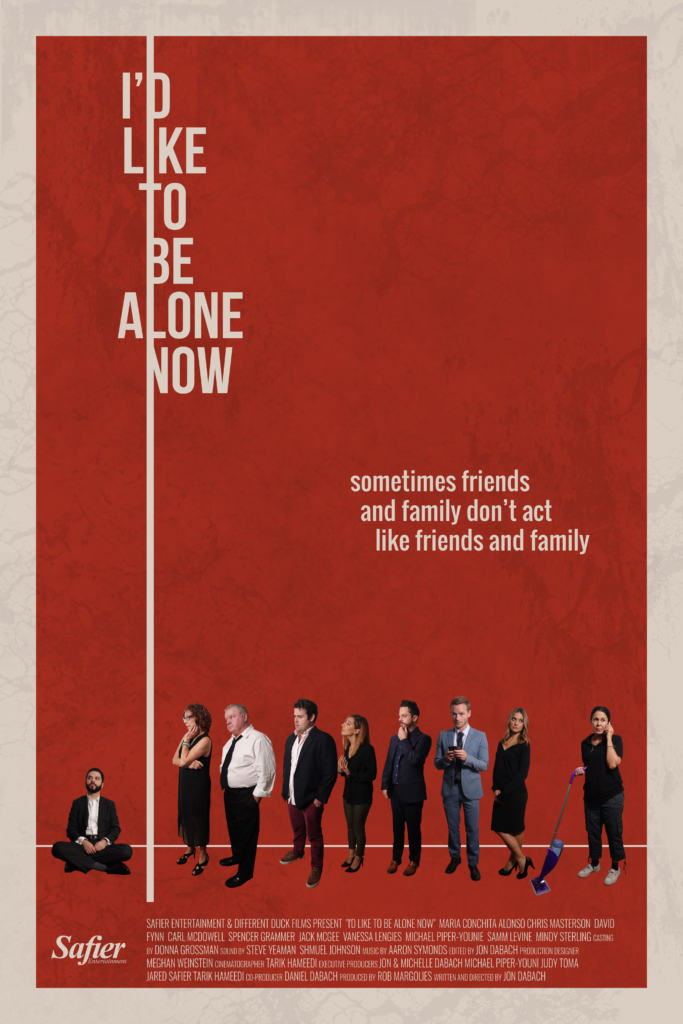 Logline:
After losing his wife and three kids, all Kyle wants is to mourn in peace. Unfortunately, his family insists on helping him.
Synopsis:
Shot in a series of continuous shots, I'd Like to be Alone Now is a story about Kyle, a man who has lost his wife and children in a car accident. Kyle's parents and siblings are so over-bearing, however, that they won't give him room to breathe in his mourning. Desperate for some solitude, Kyle nails himself into his room and we're left to watch how his nosey family unravels in the hysteria.
Cast:
Samm Levine (Inglourious Basterds, Not Another Teen Movie, Wet Hot American Summer: Ten Years Later, Vacation)

Mindy Sterling (Austin Powers Movies)

Jack McGee (The Fighter, Gangster Squad, Basic Instinct, Drive Angry)

Christopher Masterson (Malcolm in the Middle, Scary Movie 2, My Best Friend's Wedding)

Spencer Grammer (Rick and Morty, As the World Turns, Robot Chicken)

Maria Conchita Alonso (The Running Man, Predator 2, Spread, Extreme Prejudice)

Vanessa Lengies (Stick It, Waiting…, The Perfect Man, American Dreams)

David Fynn (Leap Year, Mayday, She Stoops to Conquer, The Inbetweeners)